Canon imagePRESS C650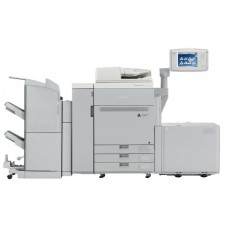 Consistently impressive performance over high volumes
This advanced light production model offers excellent print quality and high 65-ppm speeds. The C650 also features support for a wide range of RIP controllers and provides an impressive array of professional finishing options.
Benefits
Exceptional image quality
Impressive colour accuracy and consistency
Highly accurate registration
End-to-end productivity across an extensive media range including heavy stock
Automatic duplex printing up to 300 gsm with media sizes up to SRA3
Easy-to-use in multi-user and operator centric environments
Easy, secure integration into existing and future workflows
Advanced cost control and usage reporting
Energy efficient
Detailed Features
---
Exceptional print quality

The imagePRESS C650i offers enhanced colour consistency and accuracy across a wide variety of media - including heavy textured or recycled paper - thanks to Canon's Consistently Vivid (CV) toner and an Elastic Intermediate Transfer Belt, which optimise toner transfer efficiency. It delivers best-in-class results whether printing one sheet or thousands with compact and highly accurate registration technology, while an exceptional 2,400 dpi resolution enables even higher precision in the printing of text and images. These technologies, together with enhanced real-time colour calibration, deliver the premium print quality required for even the most demanding environments.
Maximum productivity

The imagePRESS C650i consistently delivers impressive production speeds of up to 60 impressions per minute on a wide range of media. It can run at maximum speed on heavy stock up to 220 gsm and quickly and effortlessly produce duplex print jobs on 300 gsm media. Major enhancements in the belt fusing technology allow the printing of complex jobs on a wide range of media, while innovative feeding options ensure maximum uptime. Operation is user friendly and simple with a large HD colour tilting touch screen where media can be easily selected, flexible mobile printing and scanning options maximise business efficiency even on the go.
Security and cost control

Ensure your information remains confidential throughout its lifecycle, from data storage to transfer and distribution, through a range of standard and optional features for device, network and document security. Control of print costs is highly advanced with support for Canon's uniFLOW software, which allows you to track, and charge, specific print jobs to individuals, departments and projects, as well as providing user-based reporting.
Seamless integration and management

This device integrates seamlessly into your existing and future office workflows and processes with support for industry IT standards such as PCL and Genuine Adobe PostScript®*. A range of tools enables easy configuration, management and administration of your device in environments with more than one user. The imagePRESS C600i also works flawlessly with a range of powerful capture and document output management solutions such as uniFLOW, eCopy and many more.
Sustainable by design

The imagePRESS C650 can help you to minimise your organisation's environmental impact and decrease energy cost. It is ENERGY STAR® qualified and offers a class-leading TEC** rating.

* Optional
** Typical Energy Consumption. Methodology defined by ENERGY STAR (www.eu-energystar.org)