COLORTRAC SmartLF SC 42 Xpress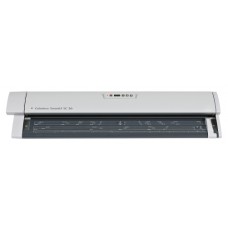 The Colortrac SmartLF SC42 Xpress captures accurate technical images and colour graphics up to 38" wide. With fast, intuitive operation and space-saving design, they're ideal for busy environments.
Benefits
Scan up to 914,4 mm (36") wide x 2mm (0.08") thick
Colour scan up to 9600dpi with SmartWorks Pro
SingleSensor technology for instant-on scanning
13 inches per second (ips) B&W, 12ips colour scanning at 200dpi
USB 3 for fast data transfer
Detailed Features
---
Fast and reliable scanning
For organisations that need to scan large-format documents, The Colortrac SmartLF SC42 Xpress production scanners deliver high-quality results hour after hour. High quality optical resolution of 1200dpi and rapid scanning speeds of up to 13ips (B&W)/12ips (colour) make these the ideal choices for CAD, GIS and AEC environments, where precise colour scanning is critical yet deadlines must be met. Choose these scanners when you need fast, accurate capture of wide-format maps, site plans, engineering drawings, blueprints, architectural renderings and many other technical documents. SuperSpeed USB 3.0 connectivity offers fast transfer speeds – that are ideal when productivity is paramount.
Versatile performance
Able to capture documents up to 38"/96.5cm wide and 0.8"/2mm thick, these scanners give you tremendous flexibility. Each device offers a choice of two document paths – front entry, rear exit, rewind to front or an optional document return guide that presents scanned material back to the operator. You can feed and capture outsize material with ease and position your scanner in a wide range of locations.
Consistent quality and accuracy
The Colortrac SmartLF SC42 Xpress features SingleSensor imaging technology that redefines the image quality and precision achievable from a large format scanner. Your scans will be accurate to within just +/- 1 pixel, making these the ideal choices for capturing precise technical drawings and plans or outsize documents that include subtle tonal variations in colour.
Built for ease of use
Intuitive touch-screen operation means the Colortrac SmartLF SC42 Xpress is quick and easy to operate – a big plus in busy environments that need to maintain consistently high productivity. Thanks to their bi-directional long-life LED lighting systems, they offer instant-on scanning with zero warm-up times.
The best choice for long-term ownership
These scanners feature a rugged construction that's built to withstand busy environments like site offices or scanning and services centres. Despite their tough build, these scanners are lightweight and manoeuvrable, so they're easy to store when not in operation or to transfer between sites. Just as importantly, their LEDs have an estimated life of 50,000 hours, or over 5 years continuous operation, minimising downtime and keeping your TCO low.