MFP Scanner L36e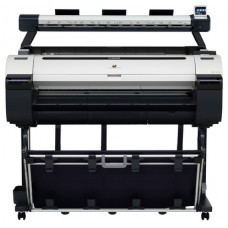 The iPF770 MFP L36e solution is a user-friendly, affordable and lightweight large-format workflow system, which makes it simple to scan and copy featuring a small footprint that takes up minimal space.
Benefits
Simple scan-to-copy solution
Scan direct to USB stick or to a network via a PC using the Ethernet connection
User-friendly interface with quick and easy navigation
Compact 36" design with lightweight scanner takes up minimal space and enables easy set up
SingleSensor with multiple LED illumination for excellent line definition and accuracy
Up to 3.0 inches per second scanning; 600dpi optical resolution
Scan to TIFF, PDF and JPEG up to 2.27m in length
3" Touch screen
Detailed Features
---
Space saving design with compact lightweight scanner
This compact 36" MFP solution design requires no PC or separate monitor and integrates the printer with a small, lightweight scanner using a simple and smart frame - so it takes up minimal space.
Easy to use - no PC required
At every stage from scanning documents to final output, the MFP Solution is designed to simplify workflow with easy operation. A user-friendly interface on the scanner allows you to scan and copy without being connected to a PC and makes it easy to navigate functions and change settings. Operations are performed simply by pressing the buttons on the scanner's panel - just like on a copying machine - so anyone can use it.
Efficient scanning and copying
The iPF770 MFP L36e is a versatile imaging solution with the ability to scan & copy in one simple operation. You can also scan direct to USB stick or easily scan and save in a simplified workflow.
Excellent quality and accuracy
The SingleSensor with multiple LED illumination system produces superb-quality, precision scans. During printing Canon's 5-colour dye-and-pigment ink system produces sharp, thin lines with an accuracy of +/- 0.1% and a minimum line width of 0.02mm. The reformulated magenta ink also covers a broader spectrum than ever to deliver more vibrant colours on CAD and GIS drawings, and better quality red text or images for posters and POS.
Designed for practical versatility
This entry level MFP solution is designed to meet the need of small offices and workgroups for a simple, user-friendly device. It is ideal for environments such as design offices, architectural firms, construction companies, education and reproduction businesses. Its ease-of-operation also makes it equally well suited to all-purpose office projects such as the creation of large-format A1 or A0 size posters, POS or teaching materials. File format support includes PDF, JPEG, TIFF and TIFF-G4. Save in TIFF format direct to a USB stick or in other formats via a PC running dedicated software.
Energy efficient
The iPF770 MFP L36e is Energy Star certified and offers low energy consumption.