Canon imagePROGRAF PRO-6100S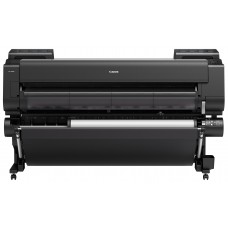 The imagePROGRAF PRO-6100S is the best solution for very large format (up to 60") printing productivity, delivering outstanding production quality at high speed, and offering exceptional reliability.
Benefits
Outstanding LUCIA PRO 8-colour print quality at impressive speed, with up to 60" large format production output.
A new 1.28" wide print head enables faster printing while maintaining high quality.
Dual roll unit supports continuous paper feeding or automatic take-up of printed output.
Visually attractive and distinctive, black body hardware design.
Ergonomic design with a flat top surface for print checking and 3.5" colour LCD touch screen operation panel.
Introducing an optimum space-saving compact body to production environments.
Fast and easy printing for PDF and JPEG file formats directly from USB memory stick.
Wi-Fi functionality for easy connection and quick setup to wireless networks.
High-capacity "hot swap" ink tanks for uninterrupted printing.
Guaranteed colour consistency between jobs and different production sites.
Detailed Features
---
New – LUCIA PRO pigment ink
LUCIA PRO pigment ink is newly developed for the imagePROGRAF PRO series to deliver printing with a wide colour gamut, excellent colour expression, superior dark area reproduction, low graininess and good gloss characteristics
New – advanced precision print head
The new imagePROGRAF PRO series fully integrated print head enables even faster printing in 8-colours with exceptional print quality. At a compact 1.28" wide, enabling efficient, high-precision ink ejection without discrepancies.
New – image processing engine
imagePROGRAF PRO series printers feature a re-designed processing engine: L-COA PRO. It combines the latest and most advanced Canon image-handling algorithms with a newly-developed, application-specific integrated circuit (ASIC) for processing high resolution images and high volumes of data – delivering the very best print quality at high speed.
New – rigid platform for best quality
imagePROGRAF PRO series printers feature a brand new mechanical platform. The highly innovative chassis structure provides an exceptional rigid frame that can maintain a precise distance between the print head and media – enabling highly accurate, reliable printing, over and over again.
Dual roll unit
The dual roll unit provides either additional paper roll or as a media take-up unit for printed output. Media take-up can be performed with the printed surface either on the inside or on the outside.
Double-speed printing
The four key colours (C, M, Y, K) are arranged symmetrically further improving the new print head, providing a good balance between high quality and fast printing. Practical poster quality can be produced at up to double the speed compared to current imagePROGRAF 8-colour series models.
Colour calibration
Consistent colour reproduction is achieved between print jobs, compensating for any variation due to differences among printers or changes over time.
Great selection of software
The software bundled with imagePROGRAF PRO series printers support a wide range of large-format and advanced printing solutions, with features to optimise the efficiency of printing environments. More importantly, the software is fully cross-platform, supporting both Windows and Apple Macintosh computers.